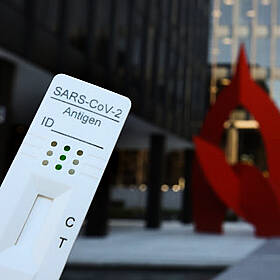 Why Is Cabinet Delaying The Decision On Antigen Testing?
23 November - 13 mins
Podcast Series
The Last Word with Matt Cooper
It has become a commonplace occurrence in the last few weeks for people to wait 2-3 days for a PCR test.
The argument being made currently by experts is that when a patient is symptomatic of Covid they should take a PCR test.
However, currently, the capacity of PCR testing in Ireland is under stress and antigen testing may be the solution in the absence of a PCR test.
[audio mp3="https://media.radiocms.net/uploads/2021/11/23192659/2311Antigen.mp3"][/audio]
Daragh O'Loughlin, General Secretary, Irish Pharmacies Union, Paul Moynagh, Professor of Immunology, Maynooth University and Sarah Lennon, Executive Director, Sage Advocacy joined the Last Word to discuss.
Catch the full chat by press...