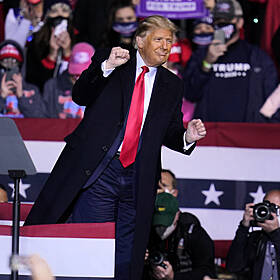 Trump Behind Biden In Polls As He Returns To Campaign Trail
14 October - 17 mins
Podcast Series
The Last Word with Matt Cooper
Donald Trump returned to the campaign trail this week with two rallies in Florida and Pennsylvania.
Almost two weeks after announcing he had tested positive for COVID-19, the US president once again claimed that he was immune and boasted about how "powerful" he felt.
But as the election race enters its final stage, Joe Biden has surged to a 17-point lead over Trump according to the latest opinion poll.
Cal Thomas and Marion McKeone discussed this in our weekly US slot.
[audio mp3="https://media.radiocms.net/uploads/2020/10/14180326/LW-Trump-Biden.mp3"][/audio]