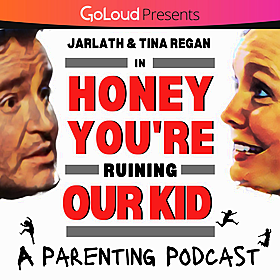 Ep 10 Sibling Conflict, Whining Kids & Fat Worry In 4 Year Old!
14 November 2022 - 50 mins
Podcast Series
Honey You're Ruining Our Kid
A Dad who has been spying on his kids with a BabyCam learns something truly shocking. A Mom who worries she is passing on her negative relationship with food to her four year old. And a kid that cannot stop whining for things they want. Tina has coping strategies that she has seen work for all of these parents. Jarlath introduces Dr Gabor Maté and his theory that all kids are raised by different parents - even those in the same family.
Please don't hesitate to contact the show with your parenting situations and questions. All emailers will remain anonymous and Tina relies personal to all messages received. [email protected] is the email address. To support the show and gai...