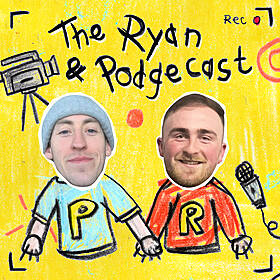 Episode 31 - Season 1 Finale
14 December 2022 - 45 mins
Podcast Series
The Ryan & Podgecast
Hiya doin' folks! This week is the last full episode of this season...
The two of us sat down and caught up as we've both been very busy boys over the last while!
Ryan told us about his recent standup gig, Podge announced some big news and we talked about our podcast highlights from the last few months.
We also talked about our plans for the podcast in the new year... 
This was a lovely way to finish off this season of pods! Thank you so so so much to everyone who has listened to episodes, everyone who came to the live podcast and to anyone who recommended/shared/liked the podcast etc etc. We are eternally grateful yiz legends!
We may have something christmassy for yiz next week so...