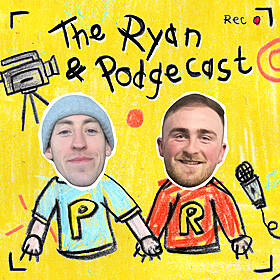 Episode 25 - Prayer Time w/ Shane Daniel Byrne
2 November 2022 - 59 mins
Podcast Series
The Ryan & Podgecast
This week, we are joined again by friend of the pod, Shane Daniel Byrne!
Podge is still in recovery mode so Shane was sound enough to come in and guest-host.
We talked about the time I prayed to be on the Disney Channel, Shane's experience working in bars, and we also conducted a little history lesson for all of you history buffs.
Ryan and Shane are taking part in the Dickie Dip this Saturday 5th November in aid of men's cancer care in the Mater Hospital and you can donate here!
It's always a pleasure to have Shane on and this episode was a lot of fun.
Podge is on the mend and will return for next week's episode. Our brave little soldier.
This episode is availa...