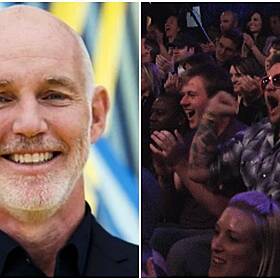 Gift Grub: Ray D'Arcy Struggles With Fake Audience Atmosphere
31 July - 2 mins
Podcast Series
The Ian Dempsey Breakfast Show
There was a story earlier this week speculating about what shows may or may not be coming back on RTÉ this autumn.
Even if shows do come back it's unlikely that there will be live studio audiences (say goodbye to 'There's one for everyone in the audience"!)
So without an audience to whoop and cheer where will RTE shows get their atmosphere from?
Don't worry, Ray D'Arcy has a plan....
[audio mp3="https://media.radiocms.net/uploads/2020/07/31142840/GG-Ray-Noise.mp3"][/audio]