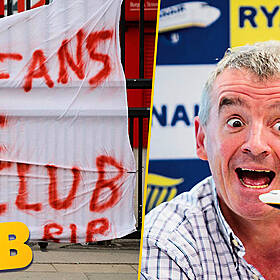 Gift Grub: Michael O'Leary Was Backing The Super League All The Way
23 April - 2 mins
Podcast Series
The Ian Dempsey Breakfast Show
"As a billionaire I'm embarrassed with these oligarchs, a couple of little protests and they wilt completely"
Michael O'Leary is fumed.
When it comes to the total and complete failure of the Super League, he says the oligarchs folded too quickly and should have stood their ground.
And O'Leary knows a thing or two about standing his ground!
Catch all the Gift Grub fun by pressing the Play button below.
[audio mp3="https://media.radiocms.net/uploads/2021/04/23173221/Gift-Sky-Superleague-OLeary.mp3"][/audio]