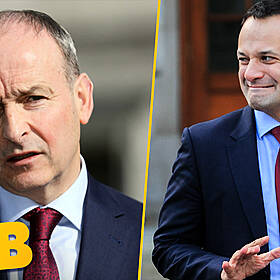 Gift Grub: Government Leave Us None The Wiser On Friday's 'Freedom Day'
18 October - 3 mins
Podcast Series
The Ian Dempsey Breakfast Show
It's another will they-won't they situation when it comes to the lifting of Covid restrictions this Friday.
In seeking some clarity on what might happen on October 22nd, Ian invited Micheál Martin onto The Ian Dempsey Breakfast Show.
[audio mp3="https://media.radiocms.net/uploads/2021/10/18110651/Gift-Grub-18-October-Government-Friday-Freedom-Day-STING-.mp3"][/audio]
Leo Varadkar and Stephen Donnelly also weighed in, though Ian was left none the wiser as to what the government's plan is.
Catch all the Gift Grub fun by pressing the Play button above.