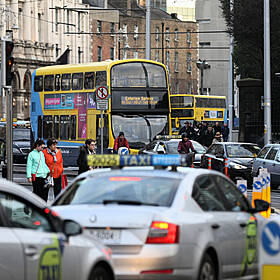 College Green
11 July 2019 - 17 mins
Podcast Series
On The Move
This summer, Dublin City Council will trial a traffic-free College Green.
A proposal to turn the space into a pedestrian plaza was rejected by An Bord Pleanála last October.
In refusing permission, it argued that pedestrianisation could have a "significant and negative" impact on bus passengers, and taxis.
The planning authority also said that it had "unacceptable" safety concerns regarding cyclists, pedestrians, buses and emergency vehicles.
However, following calls from Dublin Chamber, the business representative group, three test days will now take place. Traffic will be diverted from the area with east-west bus routes diverted.
To find out what these test days will mean for bus user...