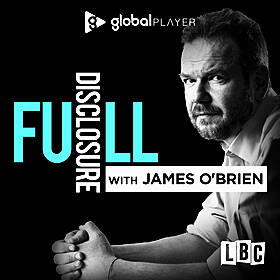 Introducing: Sweeney Talks
7 November 2022 - 1 min
Podcast Series
Full Disclosure with James O'Brien
Hey listener, we've got a new LBC podcast that we think you'd like called Sweeney Talks with old-school reporter, John Sweeney.
John is trouble. He's taken on Vladimir Putin, challenged Donald Trump, and after months of uncovering hard truths in Ukraine, he's back. John is never silent about what he's experienced. Sweeney talks, and in this podcast, so do his guests. John speaks to people like him, who are not prepared to be part of the silent majority. They refused to toe the line, and have found themselves in trouble. Big trouble. Activists, agitators, heroes… or villains. You decide.
Listen and subscribe to Sweeney Talks on Global Player. https://www.globalplayer.com/podcasts/42KuWd/...