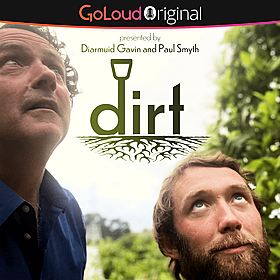 Ep 14: Cork, bai (Part Two)
27 September - 53 mins
Podcast Series
DIRT with Diarmuid Gavin and Paul Smyth
This episode is all about the real cost of fruit and veg and why we should be consuming more locally grown food.
Diarmuid and Paul visit the Cork Rooftop Farm. Literally, a fully functioning farm growing vegetables, with hens and bees and everything! And all located on a roof in the middle of Cork city.
This is a fascinating look at how you can grow almost anything anywhere, and how food production doesn't have to hurt the landscape or environment. That, and Diarmuid reminisces about his time on Strictly Come Dancing. Y'know. That whole dancing/gardening connection....