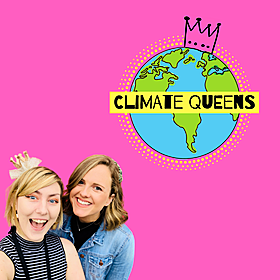 Podcast Series
Climate Queens
CLIMATE QUEENS is a monthly environmental podcast series aiming to raise awareness about the effect that we, as humans, are having on our shared planet and what we can do about it. Join us, Katie and Clodagh on the last Friday of every month, where we will be covering everything from: what even is global warming, fast fashion, the minefield that is recycling and everything in between! We are no experts, we are just two Dublin gals who met volunteering and have been best pals ever since.
When we know more, we can do more so come join the journey and channel your inner Climate Queen! Keep up to date with us on our Instagram @climatequeenspodcast.
https://www.instagram.com/climatequeenspodcas...