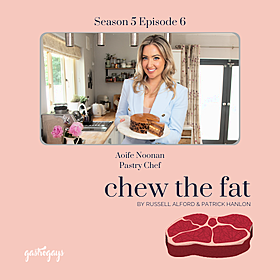 Pastry Chef Aoife Noonan & New Wines in Boxes
25 June 2021 - 48 mins
Podcast Series
Chew The Fat
This week (25th June 2021 – -) on Chew The Fat we chat to acclaimed pastry chef Aoife Noonan about her brand new venture in food education paired with restaurant-style pastry creations, personally delivered! We also delve into the more unconventional methods of bringing wine to the table by discussing boxed and canned wine.
IN OUR SNAPPY CHEW THE FAT NOTICEBOARD SEGMENT OF FOOD INDUSTRY NEWS, WE'RE COVERING:
After a year's hiatus, Food On The Edge is back for its sixth outing in the form of a blended symposium comprising both in-person and virtual events. Swapping Galway for Dublin for the first time since it began in 2015, the venue will be urban farm Airfield Estate in Dundrum on the 18t...