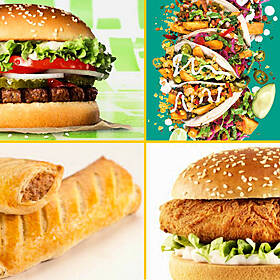 Veganuary: Ireland's Vegan Fast-Food Options Reviewed
15 January - 10 mins
Podcast Series
Dermot & Dave
Gregg's have led the way
Ever since the term "Veganuary" shot its way into popularity back in 2014, people across the world people have become more conscious of abstaining from the use of animal products, particularly in diet, during the month of January each year.
This, added to the rise of more full-time vegans, and the success of Gregg's revolutionary vegan sausage rolls, has encouraged fast food chains to hop on the vegan-friendly trend train and create their own tasty alternatives to meat.
Aoife Walsh, reporter with Independent.ie, chats to Dermot and Dave about the options she has tried in Ireland, and rates them out of 10.
Burger King's Rebel Whopper - €5.10           6/10
The Re...