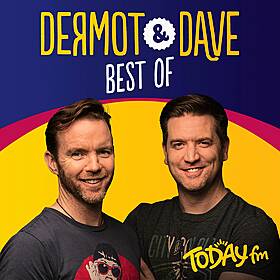 Dermot & Dave's Best Of Podcast-20/01
20 January - 2 hours 47 mins
Podcast Series
Dermot & Dave
Missed some of your favourite bits during the week? Want to catch up on the craic from Dermot and Dave? Well look no further than the Dermot and Dave Best Of podcast, your home for all of the messing with none of the music!
Whether you're on a drive, out on a walk, getting stuck into the gaff or garden or looking for a bit of distraction from work, the Dermot and Dave Best of podcast has just some of our favourite moments from the week gone by.
We had some SERIOUS Hollywood royalty on the show-Brad Pitt and Margot Robbie joined us to chat about their new film 'Babylon', the upcoming 'Barbie' movie and Brad's dreams of owning a gaff in Ireland. You're not alone Brad.
Speaking of the good l...