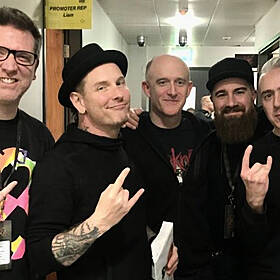 Dave Meets One Of His Heavy Metal Heroes
15 January - 4 mins
Podcast Series
Dermot & Dave
"It's better than I could have imagined"
Today FM's Dave Moore is a funny creature when it comes to music.
Not only is he the ultimate cheesemonger when it comes to poppy tunes, he's also a massive fan of heavy metal, admitting that the feeling of hard rock coursing through your veins is like no other.
Unknown to Dave, he was in for a treat at Slipknot's 3Arena gig on Wednesday night when his buddy Dan introduced the boys to lead vocalist Corey Taylor.
Did we just meet @CoreyTaylorRock? Yes. Yes, we did. @slipknot pic.twitter.com/Kdk2gzK6EA
— Dave Moore (@DaveTodayFM) January 14, 2020
Dave chats to Maria about the humbling experience, describing Corey as; "so sweet and nice".
Catch th...