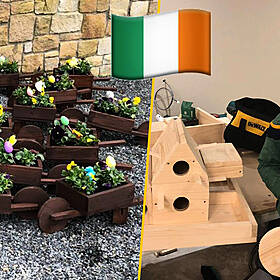 Ireland's Youngest Carpenter Is Selling Out Every Product He Makes At Home
29 April - 5 mins
Podcast Series
The Ian Dempsey Breakfast Show
Jesse James has been in a few papers this week as he has started a business at home making wooden birdhouses and wheelbarrows from timber to sell to his neighbours.
Oh and he's only 11 years of age!
Jesse is in 6th class in St Brigid's NS in Meath Hill.
Jesse's business idea kicked off when his parents were getting an extension done on the house and he asked could he use the leftover timber.
He made three birdhouses out of it and sold them, then moved onto the wheelbarrows and after getting a nail gun recently he moved onto plant holders attached to a cross for graveyards, just in time for the Blessing of the Graves.
He's just 11 lads!
Jesse wants to make enough money to buy a trampo...