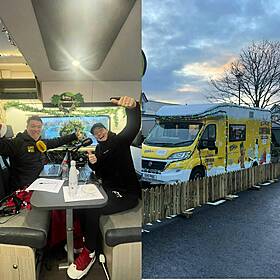 Dermot & Dave's Campervan Of Christmas Joy - Day 1
5 December 2022 - 41 mins
Podcast Series
Dermot & Dave
We're on the road, travelling around Ireland spreading some Christmas Joy and we couldn't be happier.
'Dermot & Dave's Campervan Of Christmas Joy' got off to an unbelievable start live from Kildare Village where we met some of the amazing people who popped by to say hi, caught up with Brian Ormond and Pippa O'Connor, heard what happened when Cathal tried to sell Christmas Trees AND revealed the incredible town who turned the lights on our van on!
Day one is done, and we're on the road again!